Auditions – 1/5/17!!
Thursday, January 5, 2017 –  7pm
—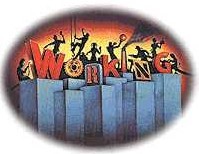 A Musical by: Stephen Schwartz
Music by: Schwartz, Craig Carnelia, Micki Grant, James Taylor, Lin-Manuel Miranda
Based on the book: Working by Studs Terkel
Show Dates: March 17, 18 & 19, 2017 – Town of Saratoga "Theater by Night"!!
Auditions: Thursday, January 5th at 7:00 PM at the Town Hall
Come prepared to sing a song provided by the director, to read from the script and to show some movement!
Rehearsals start:  2nd week of January (Sunday afternoons, and 2 Weeknights to be arranged with cast)
Directed for SCT by:  Rich Joyce
Vocal Director:  Dennis Searles
Choreographer:  Joann Searles
Synopsis:
The musical is based on the Studs Terkel book Working: People Talk About What They Do All Day and How They Feel About What They Do (1974). The hopes, dreams, joys and concerns of the average working American are the focus of this unique, extraordinary musical. Working paints a vivid portrait of the men and women that the world so often takes for granted: the schoolteacher, the phone operator, the waitress, the millworker, the mason and the housewife, just to name a few. It's a highly original look at the American landscape that is simply impossible to forget.
Cast Call:
There are 26 people from all walks of life in the show, but the production is can be performed with as few as 3 Men and 3 Women!!  This will be a great opportunity to challenge your acting skills!!
For questions, please call: Director, Rich Joyce at 796-4943 or at rjj720@roadrunner.com
or Producer, Lorraine Thompson at 695-3349 or at lorthomp@aol.com